Scheduling group events can be tricky. And while you might think it's something you can do with a simple calendar invite, the truth is that group meetings are different - especially when you're talking about scheduling multiple person meetings where everyone needs to attend the same event.
DaySchedule is perfect for scheduling group events like online classes or happy hours with coworkers! There are hundreds of thousands of groups online who use DaySchedule as their go-to platform when they want to get together.
The group event type is designed especially to allow multiple users to reserve the same spot, for the same event. In the Group event scheduling, you can set the maximum spots limit per slot to specify maximum booking allowed at a time.
You can also choose to display the remaining spots visibility on scheduling pages to display the number of spots left for each time slot on the booking page.
For example, if you are a stand-up comedian and want to host a live show to sell 100 theater tickets for 6pm and 8pm show on every Sunday - You can use the group event option to create your personalized scheduling page, specify the schedule and 100 spots for group booking.
Here's how to use the group events to allow multiple members to schedule a group meeting with you.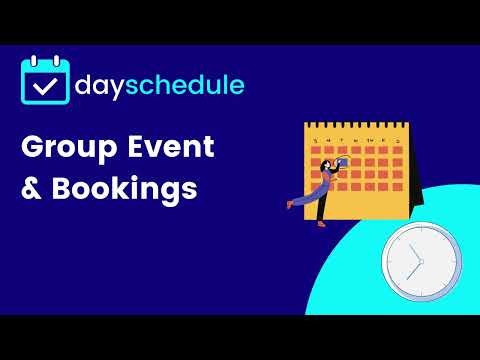 Create Group Event
Go to the Events Menu
Select the Group Event type as in the screenshot below.
Enter the event name, description, and select your scheduling page to specify where this event should be displayed.
Select the Owner for this event, if multiple team members.
Specify your schedule and availability, e.g. business hours, holidays, etc.
Save and finish to create the group event.
Group bookings
Once the group event is created, you can send an email invitation to share the link asking people to click on it when they want to attend. If someone clicks on the link and confirms the booking, pay fee(if applicable), then they'll be automatically confirmed as a participant for this event, and their calendar will automatically be synced.
The DaySchedule app will also send automated reminders to all the participants about their upcoming group event or meeting.
Download registrations
Go to your bookings page to see all the registration details and download in Excel/CSV format to find all the participant information as they submitted for group scheduling.