Indian currency was never an option on scheduling software like Calendly, Appointly and more for small businesses to receive payment in INR through UPI, PayTM or Google wallet for appointments, bookings and meeting scheduling.
We've partnered with Razorpay to solve it! Using the DaySchedule app, you can now connect your Razorpay account to automatically charge the customer for your online consulting, services and appointments in Indian currency.
Connect with Razorpay
Go to Connections page
Select Razorpay and click on connect button
You will be redirected to Razorpay website to authorize and confirm the connection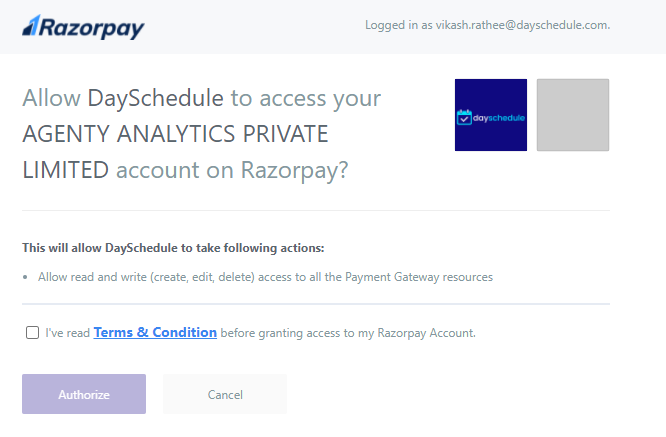 Setup payment in Event
DaySchedule is a flexible calendar system for scheduling appointments. It's built to accept payments online by integrating with your payment gateway like Razorpay. To collect money from your clients, you can simply add a "Pay and confirm" button to your appointments by following the steps below -
Go to your event page
Expend the payment option
Select Razorpay for payment provider
Enter the amount and currency as in Indian rupees (INR) and save
Note: When the collect payment option is enabled in an event, the booking will be confirmed only after the payment has been successfully made by the customer. The customer can choose the pay options (UPI, Card, Google pay, PayTM etc) available on a particular payment channel.
Payment on booking
When the payment option is enabled in an event, the invitee will be redirected to Razorpay automatically to pay the fee online before the appointment is confirmed and emails are sent with joining instructions for the meeting.
The invitee must select a payment option from the list - CARD, UPI, Wallet or Net banking etc…
For example, if you select the wallet option, the customer can pay your appointment fee using any of the wallet option available there -
PayTM
FreeCharge
PayZapp
Airtel Money
MobiKwik
JioMoney
Ola Money
PhonePe
The DaySchedule's payment integration for Indian currency will allow small businesses, freelancers, doctors, online teachers in India an easy way to receive payments in Indian Rupees for their consulting, services and appointment using the free calendar scheduling app for small business.