We are shipping the workflow and reminder feature, verified Microsoft calendar integration and more improvements on our scheduling software to automate the process of creating and maintaining schedules for multiple employees on this February 2022 release of DaySchedule.
We've received many requests in the past few months asking for a reminder feature, especially from companies switching from Calendly for a better alternative with affordable pricing for teams, students and employees. We've heard you all!
It's here →

Workflow and reminders
The workflow and reminder feature is now available to send custom notifications on events scheduled, before meetings, on meeting cancel etc. to send personalized email and reminders to your customers about the important upcoming meetings or events.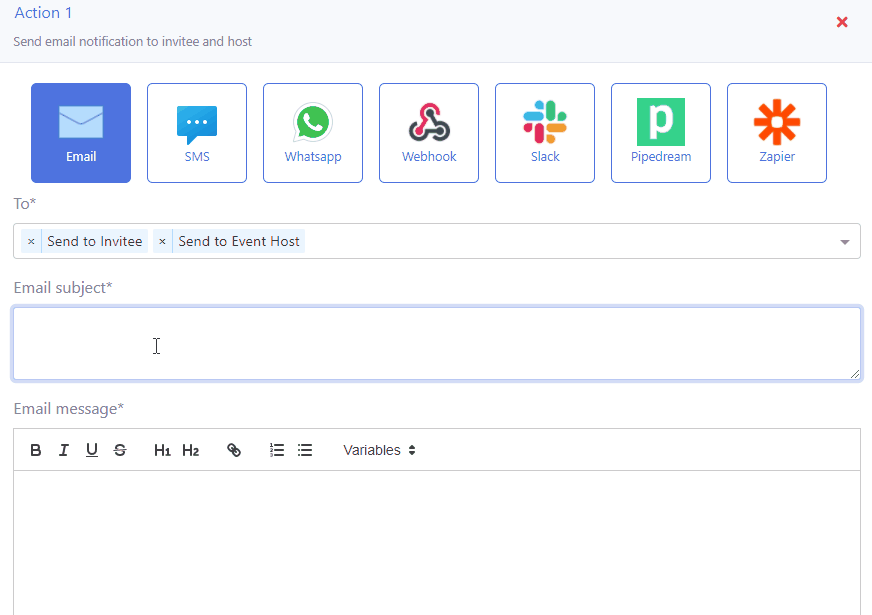 You can send reminders by Email, SMS or via Slack when it's time for your next call. Also, you can include meeting details dynamically. E.g. link to join the Zoom call, so all you have to do is click on it and join!
Microsoft approval
Our Microsoft app is now out of beta!
We've just received the Microsoft approval for our app to connect with Office 365 calendar and Microsoft meet to add the event on your Microsoft calendar and also include the Microsoft meet link in meeting emails.
All existing users MUST re-connect their connection to authorize DaySchedule.
Starting today, you will see that the Microsoft consent page show the tick mark (
) when you try to connect DaySchedule with your Microsoft account.
Connection UI
The connection page has been improved for better connection management with third-party apps to quickly connect with your choice of app to sync your calendar, conferencing with DaySchedule meetings and appointments.
Improved speed and performance
We've re-architected the scheduling pages to improve the speed and calendar booing performance by 2x, now it's a lot faster to book meetings comparing to older version of DaySchedule
We ran thousands of tests and the new version of DaySchedule can complete a booking request in average 250ms on mobile devices (No QR code), and average 750ms on desktop device when QR code is enabled) - so it takes less than 1 second now for -
Checking availability in your calendar
Creating video conferencing link
Sending email to both invitee and host
Creating QR code for desktop users to scan
Scheduling and running attached workflows
Persistent booking view
As requested on our public roadmap, the booking view filters has been added persistent storage to remember the filter you've selected and won't change on page refresh or even logout.
For example, if you've checked on Confirmed status to see the confirmed appointment only. The selected filter will be stored on the browser session and will be remembered forever on the same device.
So, the DaySchedule app will now remember all the filters you've selected and open in the same view. The persistent applies to -
Employee selection
Appointment status selection
Date range selection
Event selection
Razorpay connection
The Razorpay payment connection has been upgraded to latest Razorpay API, if you are using Razorpay payment gateway in your scheduling pages and getting token revoked error > you must reconnect with Razorpay to authorize DaySchedule again.
Integrations migration
The integration feature has been merged with workflow to better run the selected integration on different event triggers.
For example, sending a webhook request before 5 minute of an event.
If you were using any integration with your event, it should be re-created using workflow.
Feedback email
The feedback feature has been removed from the event page in favor of customized template email using workflow to trigger after event end.
This will allow you to send custom template based email or personalized feedback messages to your customers asking for their rating and feedback.
So, starting today - You can use the workflow feature to send feedback emails.